Andrew,
Jeff
,
Fritz
,
Chattee
,
Jayvee
,
Markku
,
Hana
,
Jenny
,
Maki
,
Ria
,
Juned
So, we crackheads had to come back for not one, but two more rounds of ziplining!
One part of our group who didn't make it the previous day -- in particular Jayvee, Jenny and Maki -- who were forcibly dragged from their hotel rooms to experience it with us.
Gramps
Juned, well, tagged along but wasn't in the mood.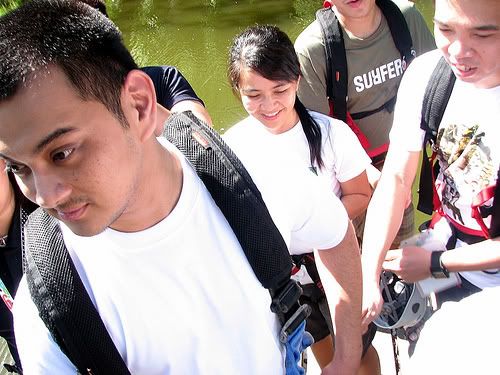 We had to literally pull ourselves across a river on a makeshift raft to reach the trek going up.
Jayvee was half asleep the entire time. LOL.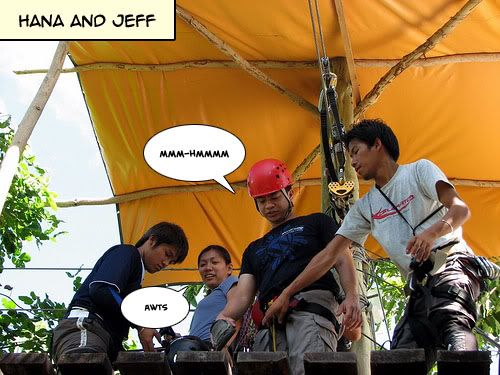 Nuff said.
Hana was one of the very few (me included :P) who successfully ziplined upside down.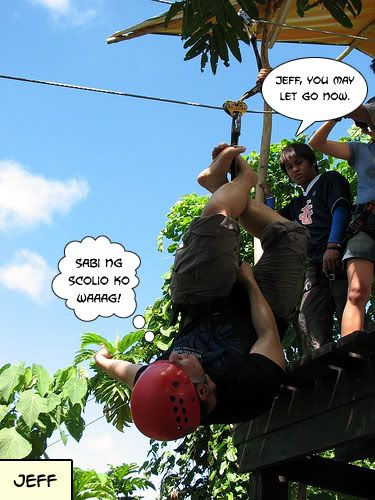 I wish I could say the same for Jeff. Hehehe. Peace!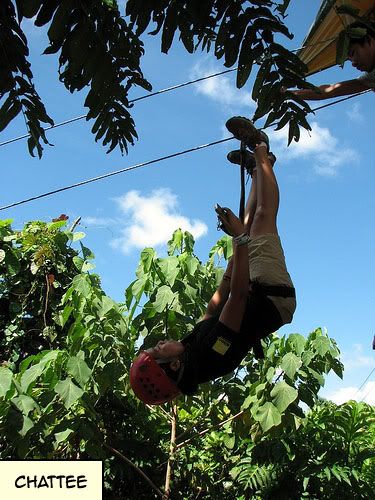 This pic can be summed up in four letters: F-A-I-L. Hahaha! Who has the video?
Markku had two phones taped back-to-back to capture the moment in 3D.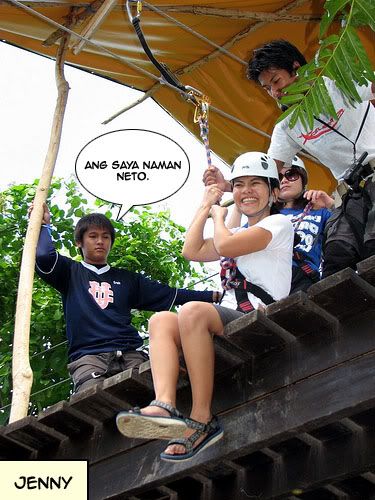 Jenny was happy and she knows it.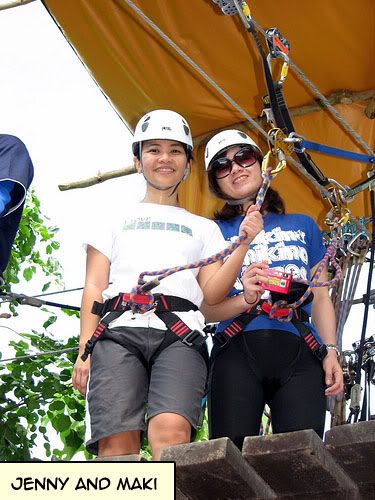 Jenny and Maki.
Juned, Jeff, Maki, Andrew, Fritz, Ria
Oh! Did I mention that I got in for free? Hehehe. But for the second round, I decided to pay. Everyone except Jayvee and Jenny zipped for the second time. While I was up there I asked the staff if there was anything else I haven't done yet. I've done the superman position, seated, upside-down and backward plunge. In the first backward plunge, my back was facing the zipline while one staff person was holding my harness. Then on a count of three, he let go of me. This time, the guy said: do it but without us holding your harness. Basically he asked me to do the "Nestea" plunge. Damn. So I did but as a result my recently-healed hip injury began to hurt again. Pffft. Nevertheless, it was fun. The injury resolved itself in two days anyway so no worries.
Again, if you're the adventurous kind, do try out Asia's fastest and longest zipline at
Outland Adventure
! Tell them that Andrew sent you. LOL. Visit their
website
or call/text 082.224.5855. Beginning April 4 till the end of the summer they're open everyday. I was informed that the record holder for the most zips done at Outland was this guy who's done it 17 times! Now's your chance to beat that record!