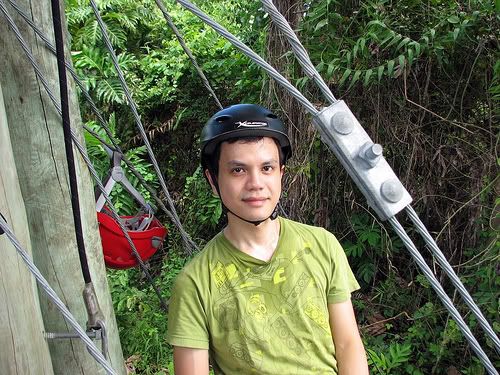 I had the most awesome time of my life when droves of blogger friends from Manila, GenSan and CDO came over for the
Davao Food Appreciation Tour
. Part of the sked was to go ziplining on Saturday, March 14. That was, bar none, the funnest part of the three-day event (don't get me wrong, food was great too). *Little* did the others know that they were in for a big surprise -- my friend
Jay
proposed to my other friend
Aileen
while she was still attached to the harness! Talk about hung up to dry hehe! But I have to give props to my main man Jay. What he did was ... uh. The sweetiest thing? I'm proud to say that I had a small part in it, even if it meant acting and lying to Aileen's face. (Sorry Aileen LOL)
Fritz
(aka Astroboy),
Jeff
(aka Scolioboy), cuzzes
Ria
,
Gwing
and Drew
Green Vs Yellow: Drew,
Kuya Migs
, Gwing and Aileen (aka Clueless Girl)
Drew and Uber-PA
Katherine V. Lara
'D' Sweeties: Jay De Jesus and Aileen Apolo (still clueless at this point)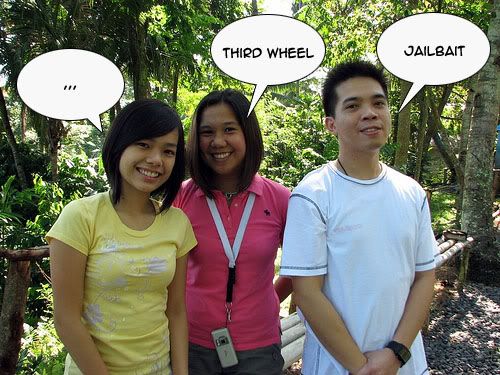 Gwing, Chattee and Fritz
They're Engaged!!
Congratulations to both of you! Mwahugz!
Thanks to the all of the staff of Excelerator for being the coolest while we were planning this. Kudos to their CEO Matt McNeal for pulling all the strings.
Out of all the ziplines I've been to, Excelerator is the BEST of the BEST. It's also convenient coz it's very close to the city (~20 minutes). Not to mention the longest and fastest zipline in Asia. Excelerator is located in Maa, Davao City. The zipline is a kilometer long and 200 feet high. Cost is P300 per person, P150 if you decide to give it another go. Visit their website:
OutlandAdventure.org
for more details.