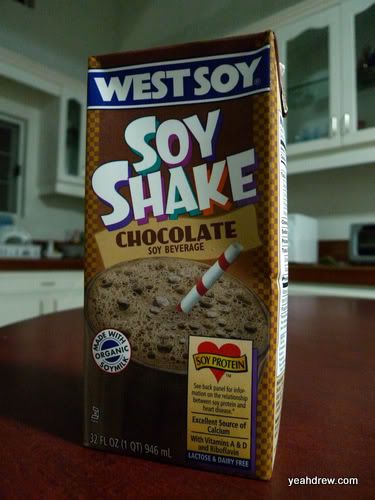 Once upon a time in a strip mall called Bonifacio High Street, two handsome fellows named Andrew and
Jehz
were hanging out at Krispy Kreme. Jehz bought Andrew a pack of Soy Milk, much to Andrew's chagrin. Andrew said, "Why the f*ck did you buy me soy milk?!" Jehz said, "Wala lang nyok". Andrew punched the straw into the carton and tasted what he thought would be the most awful thing he would ever taste in his life. Surprise, surprise. Andrew was in 7th heaven. On that fateful day did Andrew begin his love affair with... SOY MILK (no not with Jehz LOL)
I have a love-hate relationship with cow's milk. No matter how I love drinking it, it hates me back -- in the form of frequent visits to the bathroom. I'm just glad I discovered soy milk. It tastes similar to regular milk, without all the extra calories and fat. Plus it's got lots of good healthy stuff such as protein, vitamins and fiber. Try looking for the
Silk
brand. Their chocolate soy milk is terrific. It costs about the same as cow's milk -- at about P120 ($2.50) for a quart, it's found in most groceries in Manila. Unfortunately I haven't had luck finding Silk here in Davao, BUT,
Healthy Options
carries other brands that you might enjoy. I liked the
West Soy™
Soy Shake in Chocolate because of its thick texture similar to Silk, but the flavor is quite creamier. Healthy Options is the bomb when it comes to bland flavorless food LOL
If you do weights at the gym, soy milk may benefit you with its high protein content. I hate protein shakes. Period. Soy milk also promotes a healthy heart, a big plus for me because of my weird heart rhythm. I take one glass in the morning and one more in the evening. Anyway, soy milk is only one part of my health freak regimen. More health freak tips coming right at ya! Soon, I hope.