The day we visited the Louvre Museum, or the Great Louvre, or Musée du Louvre, or the Grand Louvre or however you watchamacallit, my cousins Kathy and Stephen had just flown in from San Francisco, California and Chicago, Illinois respectively. It was obvious that both were thoroughly exhausted, but we had to step up the plate and get our tour going or else risk ruining our itinerary. As soon as we dropped off their luggage at the hotel, we took the first train going to the most visited museum in the world -- The Louvre (say lewv).
Clarice, Me, Kathy. Entering the famous Louvre Pyramid that is also the museum's entrance.
As I've mentioned, the pyramid is not just a pyramid -- it's the museum's main visitor entrance and it's where the security checks take place. After security, we are led down a flight of stairs where we find ourselves amongst a swarm of tourists inside a big sun-drenched hallway. The hallway is sort of like an ante room that branches out to the different sections of the museum. And it is where you line up to buy tickets. A ticket costs 9 euros (~630 pesos). The ticket allows you to enter the permanent collections including Egyptian Antiquities, Greek and Roman Antiquities, Sculptures and Paintings. Occasionally, there are so-called temporary collections found in the Hall Napoleon that will set you back 11 euros, or 14 euros for a combined ticket that gives access to the permanent collection as well.
Before we left for Europe, our aunt cautioned us that touring the entire museum is no laughing matter. Her advice was for us to view only the key aspects of the Louvre such as the Mona Lisa and the Winged Victory, among others. I'm gung ho when it comes to walking for hours, but seeing how tired my baby cousins are, we'll have to surge on with my aunt's suggestion.
We entered the Denon (du-know) Wing where we were met by a bunch of pre-classical Greek statues.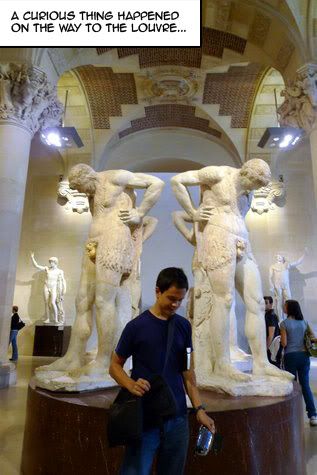 Truly, a field day for porn aficionados and pedophiles.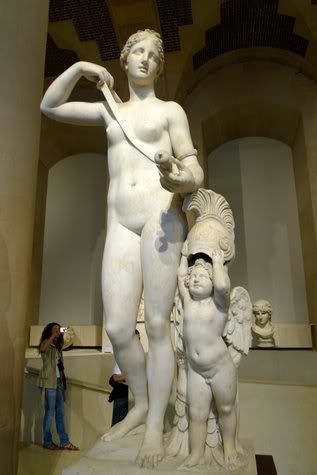 One thing I appreciated were the crudely composed signs that aided us in finding some of the important pieces of the museum:
The Winged Victory of Samothrace, third century B.C. marble sculpture of the Greek goddess Nike.
Side view of the Winged Victory
From afar, the Venus de Milo.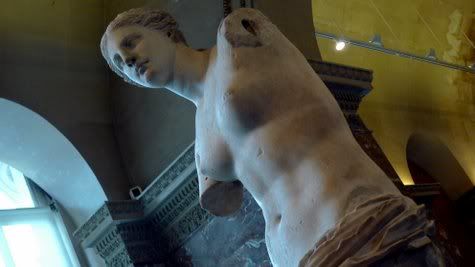 Venus de Milo, up close. Sculpted between 130 and 100 B.C. by Alexandros of Antioch. Depicts the Greek goddess of love and beauty, Aphrodite, or Venus to the Romans.
The Grand Gallery where the works of Leonardo Da Vinci, Raffaello Santi, Michaelangelo, Botticelli, Louis David and Eugene Delacroix are on display.
Leonidas at Thermopylae by Louis David. I just had to make a joke out of this one, right?
Parting from One's Beloved by Girodet-Trioson
Self-portrait with a friend by Raffaello Santi
Liberty leading the People by Eugene Delacroix. Now does this look awfully familiar to you? (This painting's my favorite BTW)
That's because Coldplay used it as the cover of their Viva La Vida CD!
Portrait of a Young Man by Giovanni Bellini. Kinda reminds me of a canine friend of ours.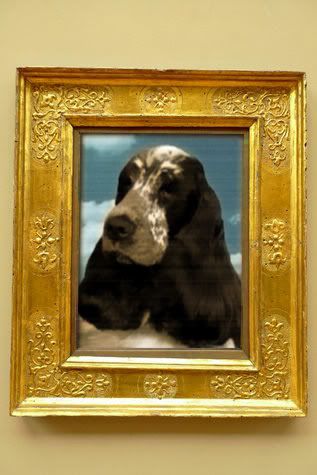 Cheeky.
The Mona Lisa by Leonardo Da Vinci. I call it the Mona Buzzkill. We were only allowed to stand 12 feet from the painting! And what's up with the glass panel and the green light?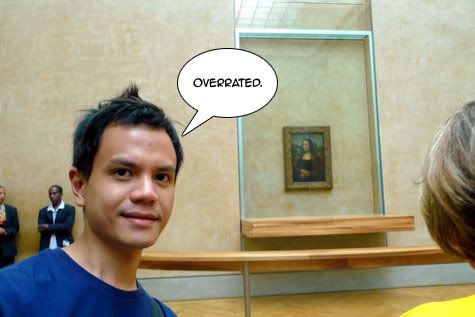 My sentiments exactly.
Wait, that's it? I wanted to post only the highlights of the museum tour without creating a super boring long post. Despite Mona Buzzkill I did enjoy seeing the Mona Lisa and these other masterpieces in the flesh (so to speak). Definitely an awesome cultural experience!!
We all but crashed on our beds once we got back to our hotel. At around 10pm we ate dinner at Saint-Germain-des-Pres (san-zhermawn-de-prey), a nightspot bustling with open-air cafes and bistros. It reminded me a lot of Malate in Manila, only French. And if you know Jean-Paul Sartre, he used to have his coffee here.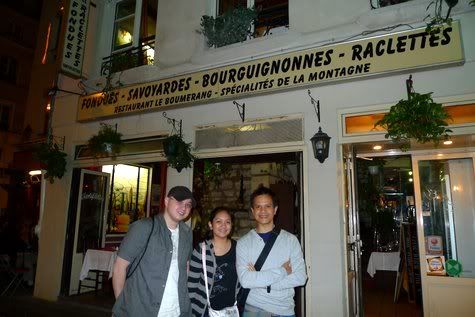 Next stop: Versailles!