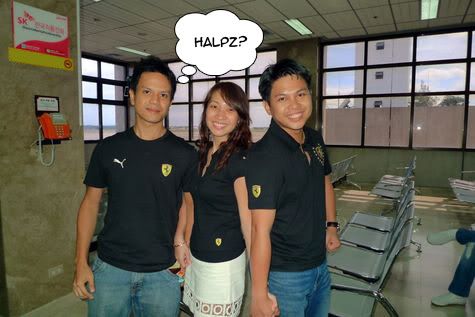 Keeping my composure for photography's sake lolz. Oh, and yes, we're wearing our F1 schwag to boot. :P
It was 30 minutes to boarding and for some reason I thought the plane was going to leave me behind. I was still in the Duty Free area of the Changi Airport and our gate, F38, was 500 miles away. So I decided to make a run for it. In the middle of my dash, I hopped on the walk-on conveyor thinking I'd go faster. To my chagrin, my race for glory ended in a mad, screeching halt. You know what happens when you're running on a treadmill then someone unplugs it? That's what happened to me, only that I was in an airport.
I landed on my knees and hands. They burned. One Chinese janitor dude looked at me with bewilderment. Embarrassed, I stood up and thought, what the heck, if I get left behind, so be it. As I approached gate F38, I noticed a healthy line of people lifting their hand-carried luggage on the x-ray machine. I'm like, what the fuck!? I should have walked instead of making an injured fool of myself and I'd still make it to the flight!! What was I thinking!? So I stood at the end of the queue and gradually, felt the world weighing down on my legs.
I pulled up my shorts and saw the mess I made out of my knees. There was one 3 x 1 inch open wound on my right knee plus one rug burn on the side that's at least 4 inches in length. On my left, there's one small open wound and another rug burn of about the same size. I retreated to the comfort room to wash them, but the sink was too high and I didn't want to make a scene. Instead, I washed my hands. OUCH. Apparently, my hands weren't so lucky either. On my right wrist was one wound that looked as if a chunk of skin was pared off. It's small but it hurts like a bitch. My left middle finger had one too, but tinier.
I decided to suck it up and just ask a flight attendant to help me out once I get on the plane. It's funny that 4 of my friends were the last group of people to board. Two of them were paged three times and were on the brink of being left behind coz they were out shopping! And there I was, beaten to a pulp because of my paranoia. Ughhh! The great thing was a pretty flight attendant named Lisa helped me clean my wounds while curious passengers looked on. She plastered the largest wound to stop the bleeding. The others she left open to dry out. During the course of the flights to Cebu and to Davao three different flight attendants kept tabs on how I was doing. I felt so special lol.
Ok, now the ugly part.
Above is my left knee, already plastered and treated with Betadine. Trust me, you do not want to see what's underneath.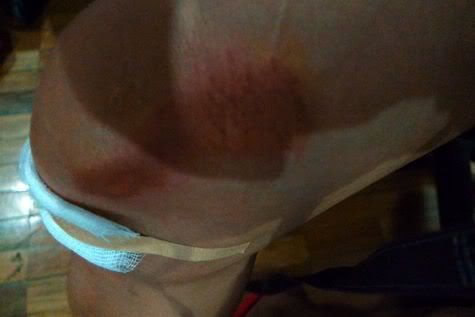 This is my right knee. The one gauzed up is the 3 x 1 inch wound that was bleeding. The bruise that you see is a 4 inch rug burn. This one hurts the most.
When I woke up today the pain has subsided about 80%. I can still feel a bit of a sting here and there. Now the problem is the gauze has attached themselves to my wounds. My cousin/doctor advised me to take a warm shower to soften the gauze so it won't be as painful to peel off. Wish me luck!!