First, a disclaimer. I'm not a big rabid Twilight fan, but I thought it'd be fun to throw a Halloween party and have us all dress up as emo vampires. Chattee and Brendel made us up with pale Halloween makeup bought from the mall.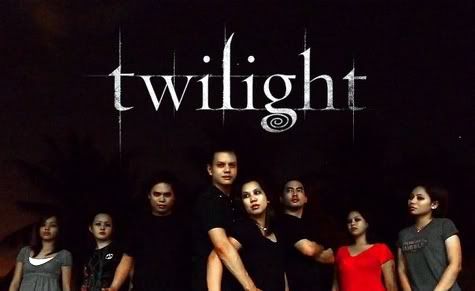 This shot took quite a bit of effort coz we were trying to imitate this photo: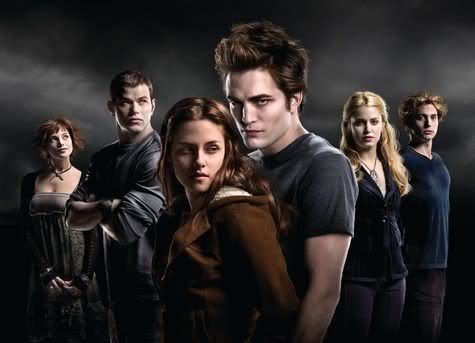 Not what we wanted but I still think it turned out very cool.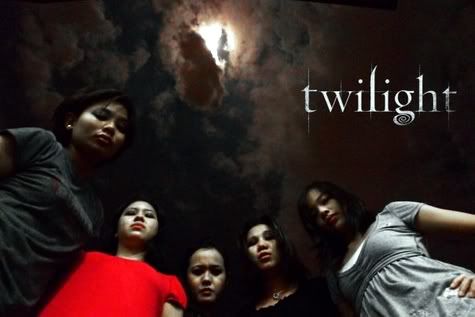 A nice shot of the girls set against the moonlit sky.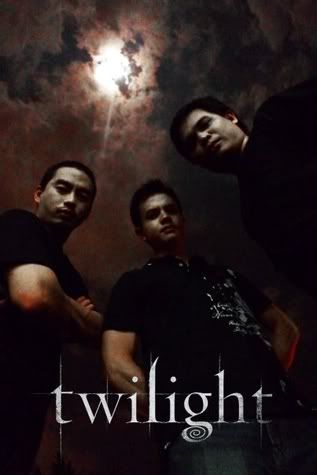 And now, the guys.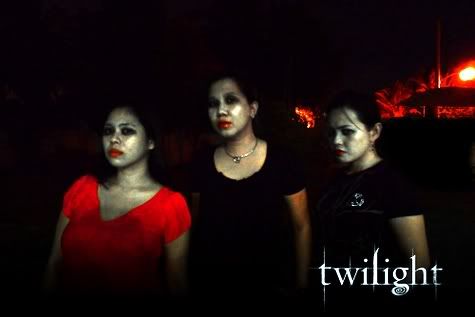 Ria, Chattee, Brendel showing off their fiercest looks. lol
This was a sample shot, but I really like this one coz of its randomness.
Prior to the photoshoot Ria served us a hefty dinner of Roast Chicken. Lyle and Brendel brought two big pizzas while Migs had two bottles of sparkling White Grape juice in tow. Chattee, fresh from Cebu, gave out Chicharon and dried mangoes as pasalubong.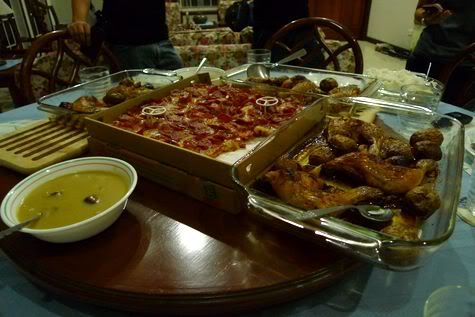 After the photoshoot we played a game of Big Taboo. It's similar to Pictionary but has four types of clues: the typical Taboo where you try to describe one word while trying to avoid uttering specified words on a list; "15" where you describe as many words possible but you're only allowed 15 words in total; "Bendy Bob" where you act out words by controlling a purple stuffed toy; "Drawing" which is basically drawing out clues like in Pictionary; And lastly, a free-for-all round where previously solved answers are described with one word. Whoever answers first gets to move on the board. My teammates were Ria, Gwing, Luan and Brendel. The other team was composed of Jim, Anne, Lyle and Chattee. My team won but it was pretty close. Overall it was nice enjoyable evening.. something that I don't get to do in Halloween. I think this is the first serious Halloween party I've been to where everyone's dressed up on purpose.
The girls tried to get us guys to take off our shirts. I was going to do it if Jim and Lyle were willing. But they weren't, thank god. hahaha
Next year's theme: New Moon. LOL