At the last minute, Tiger Airways had bungled up our flights hence we were forced to spend an extra day in Singapore. That also meant one day minus our stay in Penang, which is a shame because we realized there was so much to see with only little time in our hands.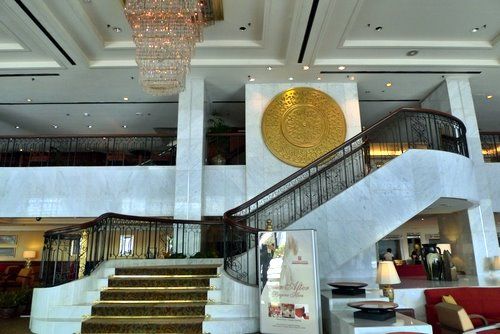 Lobby of Trader's Hotel
Our hotel, the Shangri-la Trader's Hotel, is in beautiful George Town, a city teeming with historical sights and curious tourists like us. We had heard about its fabulous food and that the Hainanese Chicken was not to be missed. Immediately after checking in, we hailed a taxi and asked to be taken to Chulia Street to eat lunch. My friend Jeff, who did all the pre-trip legwork, somehow forgot which restaurant served the best version of the dish. The cab driver dropped us off in a corner of a sidewalk that had about a half dozen open-air eateries. Each eatery had one common trait -- a steel cart out front with one man frantically chopping chicken and duck. Luckily, Jeff looked at the right direction and saw the sign of Sky Hotel, the place he had read about on the Internet. The lady manager was a little hard to talk to, but after a bit of discussion she fixed us a table in the most inconvenient section of the restaurant -- right next to our seats was the lady assigned to wash the dishes and utensils. And get this, she was doing all of it with a pail and a faucet! Mind you, she was quite the furious human dishwasher. Every now and then a sizable splash of water landed on my left leg. Certainly not the best distraction while eating chicken.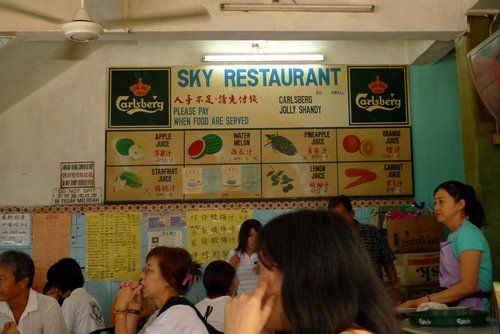 Sky Restaurant's signage was inside the restaurant. Kind of hard to see from outside!



En-en, Chicklet and Me



Please do not spit!


The manager went ahead and ordered what the typical tourist would -- a variety of fresh fruit drinks, a combo plate of roast chicken, duck, beef and pork with rice, and a soup with what I'm guessing were innards of a certain animal. I'm not a fan of animal organs, though my friends seemed to enjoy the soup. I was happy enough with myself just feeding on the normal food. The chicken was tasty, and the pork, which resembled our local tocino, was nice too. Our drinks were, well, 'interesting'. Mine tasted like cinnamon, almost similar to chai tea, but in juice form. I hated it. But I loved the star fruit juice and lime juice that two of my friends got. Lime juice seems to be a big thing in Malaysia and Singapore lately, I noticed.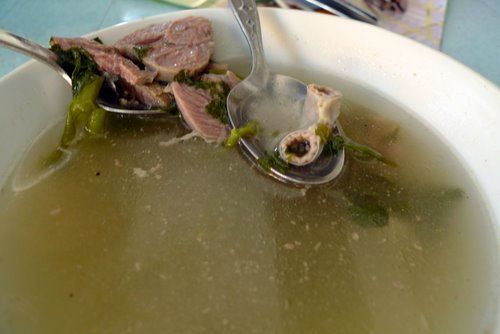 Soup with intestines :|



Now we're talkin!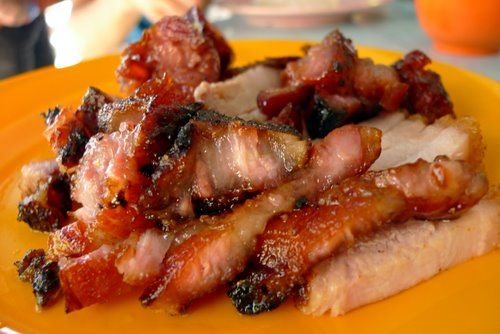 Sweet Roast Pork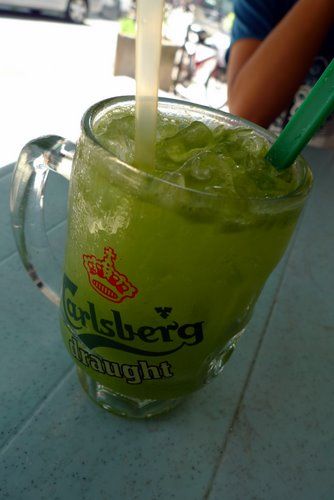 Starfruit Juice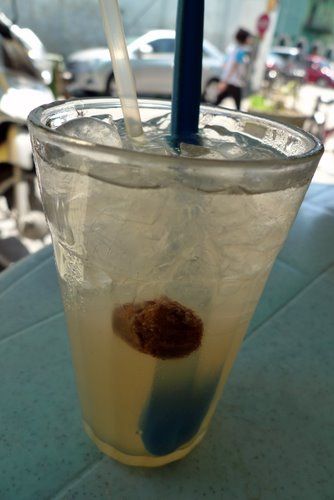 The juice from cinnamon hell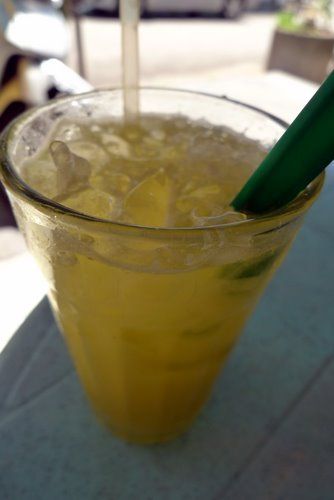 Lemon Juice

Our hunger satiated, we headed back to our hotel to meet two of our other friends who flew on a later flight from Singapore. We got dressed in our beach wear and rushed to get taxis, this time going to the Golden Sands Hotel along Batu Feringgi Beach. It's about an hour's drive, about enough for us to take a quick nap inside the cab. We were dead tired. Shuttling between different cities is fun but physically draining!
The Golden Sands' elegant, bleached facade hovered over its vast estate sprawling with four large lagoon pools and lush gardens, all of which we were able to enjoy for free because Trader's Hotel was a sister hotel. Outside was a beach strip where we were approached by peddlers advertising their aqua sports portfolios. We were keen on the parasailing and it took a while before all of us mustered enough courage to do it. I, for one, was a bit nervous because of my vertigo. But I thought, hey, this happens only once... might as well suck it up and give it a shot. Each one of us paid 250 ringgit for a short trip. It was enough for a first timer, but afterwards I wished I paid more for the longer trip. The people handling the parachutes and equipment gave us guys a quick run through on what to do before and after taking flight. If I remember correctly, I only had to pull two ropes while taking off to keep our balance, and pull hard on another rope on my left to help us land when it's over. Parasailing isn't as frightening as it looks. My partner, Pinky, literally had to be coerced to join us. Once we were up there, all her doubts were instantly erased. The thrilling view of the mountains, the sea, the sky and the cool wind billowing on our cheeks were something to behold. It's moments like these that you don't forget for the rest of your life.

Andrew, Pinky, Paolo, Chicklet, Jeff, En-en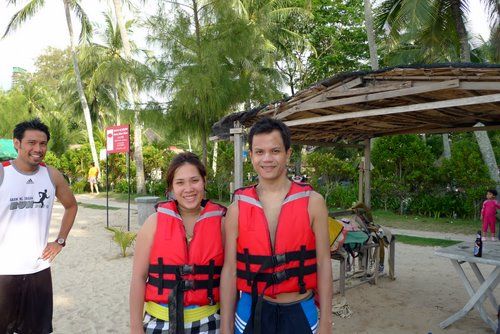 Me and Pinky before we flew off to the skies

Here's a 9-second video of us taking off.
I wish it were longer but my friend didn't know how to operate my camera. :|
Stay tuned for part 2 of my Penang adventure!