Tired, groggy and excited.
That's how I feel on my first day here in Singapore. I arrived hours ahead of my friends who are just about to fly in from Manila (it's 11:18PM). I'm now blogging from my fantastic room here at Hotel Rendezvous. Unknowingly, I booked for a "Plaza Club Room", which is some sort of executive suite. Me, an exective? Who knew? Like a normal person, I went straight to their front desk in the lobby to check myself in. But when they saw my reservation I was hushed off to the 11th floor where us executives have our own private Club floor check-in! Wow, I felt like a celebrity.

My room

Bathroom shot hehehe
Other perks I got (which the normal people didn't get) are free internet, free fruit basket every morning, free breakfast, free cocktails in the evening, and the chance to rub elbows with foreign execs.
I ventured out to Plaza Singapura to grab dinner at Thai Express.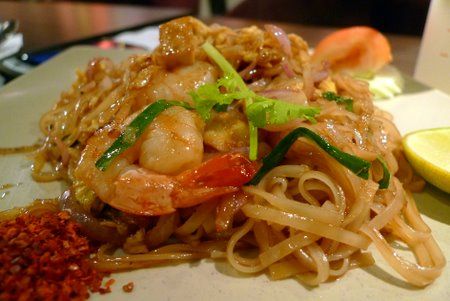 Pad Thai with Shrimp

Lime Juice

Tapioca with Coconut Milk
Everything was delicious but it's too much for just one person! The waitress even asked me if there was something wrong with their food. I said nah, I said all's fine except that I was on a diet. :)