Universal Studios is the newest addition to the many must-see places in Singapore. It opened March of this year but has garnered more than a million visitors in a short span of time. The more well-known park in Singapore, Sentosa, actually houses Universal Studios. I have been to HongKong Disneyland and found it too bland and childish for my taste. There wasn't much stuff for adults. The one and only ride I got on involved a fat orange bear who wears no underwear. ;) Kinda boring but hey, I couldn't resist my niece :) Universal Studios, on the other hand, was the bomb! It had enough nerve-wracking roller coasters to scare the shit out of me. The mascots were cuter, too. I had a blast taking pictures with Fiona, Shrek, Woody Wood Pecker, the wacky crew from Madagascar, even characters from the box office flop Waterworld.
Funny story. I was staying in a different hotel from 4 of my friends. The night before, we agreed to meet in Universal Studios at 9 in the morning. Their hotel was kind of, well, situated in a galaxy far, far away. I was staying in Orchard Road, so it was easy for me to take the MRT to Vivocity, where tourists can take a monorail or bus to and from Sentosa. Despite that, I was a bit late getting to the park (to this day they're giving me flak for it). My friend Jeff picked me up at the entrance as he was the one holding our tickets. We paced onwards to Shrek's castle where they were already busy posing for pics. There was another group of Filipinos nearby. Let's call them "The Others". Since I was the designated photographer (as always), I made it a point to have myself in at least one picture per scenery. My friend Christine prodded me to hand my camera to one girl from The Others to take a pic of our group. And I was like, what? We don't even know these people and the girl looked burdened enough by a gigantic DSLR of her own. She said it's ok just give it to her! I'm like nah, I'd rather not. The girl suddenly spoke to me and said it's ok, let me have it. So I did. As I posed with my friends Christine was like, hey come join us! Now things were getting strange. Five of The Others rushed and posed with us for a group picture. Ok, I thought, looks like Filipinos, albeit strangers, do unite in photo ops and unfamiliar places. So I just went with it. Next, the girl who had my camera said let's go for a photo op with the Madagascar mascots. I'm like ok that's not a bad idea! She led us to the secret exit where the mascots come out before walking into the park and greet guests. The girl with the gigantic camera had a backstage pass! Whaaat? After a few pics my friends began talking casually to The Others. I was totally Lost (get the pun? :P). They knew each others' names! I pulled my friend to a corner and asked her how do you know all of them? She's like they're Jeff's friends! WHY DIDN'T ANYONE TELL ME BEFOREHAND?! Sort of embarrassed, I was introduced to Desay, Paul, Cookie, May, Joshua and Ivy .... I'm so bad with names. They're from Davao City like me, which is cool. Really awesome people to hang out with.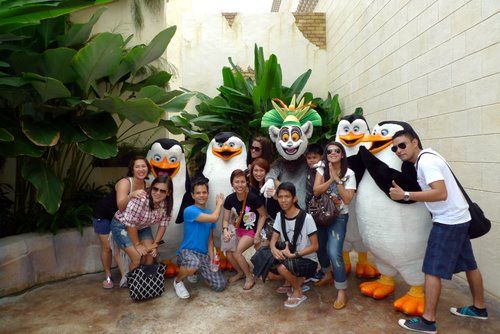 Backstage Pass FTW
Later on, I learned that the girl with the gigantic camera, better known as Ivy, works for Universal Studios. Hence the backstage pass! She was kind enough to take the day off to tour our group. Sweet!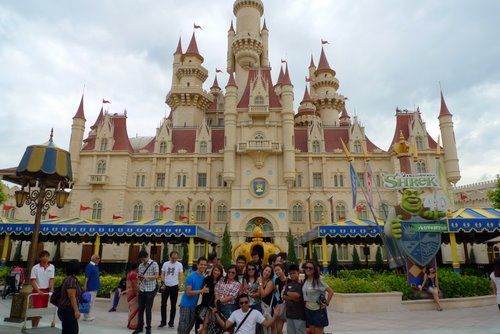 Pinoys Rule!!



Shrek's Castle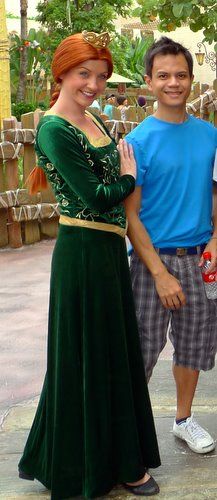 Fiona was totally into me :P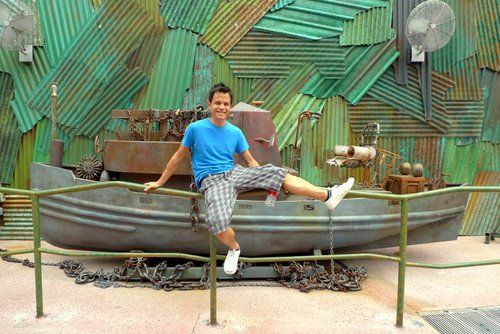 ...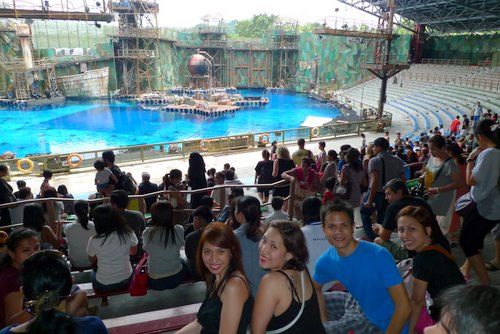 Seated in the viewing deck of the Waterworld Stunt Show. The pre-show was more exciting than the actual one LOL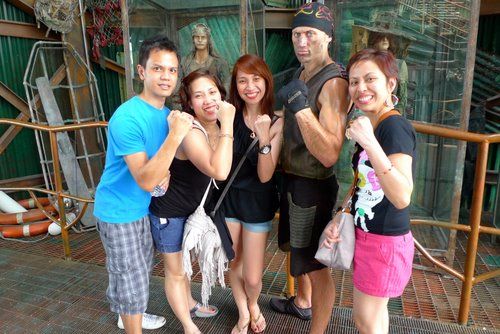 Arrr, posin' for the camera Gar, Where can I find a bottle o'rum? Oops wrong movie LOL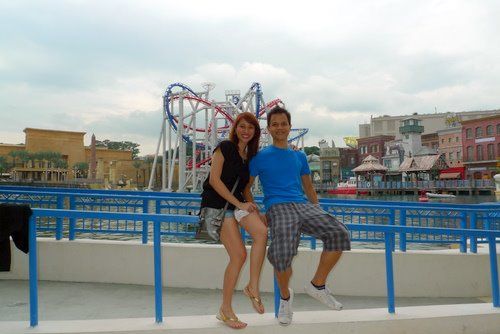 Christine and Me. Behind us is the Batman roller coaster which hasn't opened yet due to "operational glitches".



Posing with a Pharaoh on stilts. Check out the abs on that guy. I have to work more on mine so I can work in Universal Studios! :)

The day's climax was when we rode The Revenge of the Mummy roller coaster. WOW. It's like Disney's Magic Mountain on acid. Too bad I couldn't get hold of our official snapshot. Hmm who took it? I guess it's better left hidden for most of us. :)

Posing with Cleopatra (?), the Pharaoh and Scorpion King.



Impromptu photo with Woody Woodpecker

If you're planning a trip abroad, definitely don't leave Singapore out. Universal Studios alone is worth it if you crave for adventure! Check out their
official website
. One ticket costs about SG$66.
More on my Singapore journey in my next blog post!